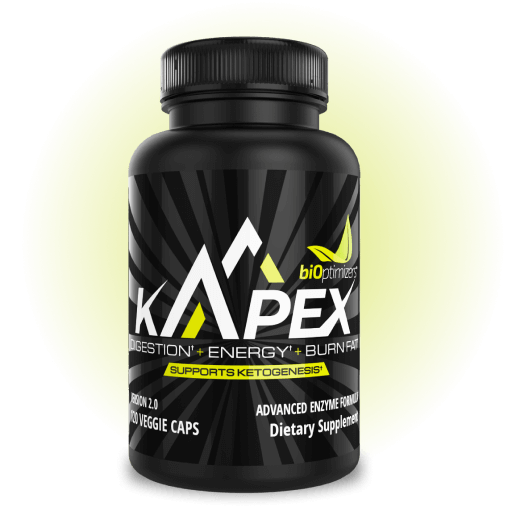 When we're following the keto diet, we might start to notice a lot of changes in the way our body works. This isn't surprising, as our whole digestive system is being reset for burning fat instead of the traditional glucose and carbs. 
Since many of us might find the keto diet challenging, especially with the body rebelling at the earlier stages, it might be a good idea to have a little help here and there. This is where the Bioptimizers kApex come in.
Let's take a closer look in order to determine whether it's really all that its suppliers say it is. 
About the Bioptimizers kApex
The Bioptimizers kApex is a dietary supplement that provides a powerful way towards upgrading our digestive system, energy levels, and fat loss method in the ketogenic diet. As a result of using the supplement on a regular basis, we may look forward to burning more of our stored fat and converting it into energy for our daily needs. 
Who Should Take the Bioptimizers kApex
The people who should invest in the Bioptimizers kApex are those who have certain problems with digestion, especially when they're attempting to follow the keto diet. This diet requires a high level of fat intake, which could result in issues such as constipation, diarrhea, or just a heavy feeling in the stomach. 
This supplement is also for those who have experienced dips in their energy levels and hence their workouts when they cut carbs from their diet. This is another strict requirement of keto, without which we cannot hope to reach the fat-burning stage called ketosis. 
The Name Behind Bioptimizers kApex
The person who came up with the idea and formula for the Bioptimizers kApex supplement is named Matt Gallant. He had been a follower of the ketogenic diet for more than 26 years, starting when he was only a teenager. After reading a book called 'The Anabolic Diet' by Dr. Mauro DiPasquale. This answered many of his concerns about dipping energy levels and a blurry thought process.
This method also helped Gallant to build muscle while doing the keto diet. This is against most conceptions about keto, though it would help many bodybuilders follow this diet. In fact, the founder of Bioptimizers kApex was able to build up about 50 pounds of lean muscle during their keto journey. 
How the Bioptimizers kApex Works
The reasoning behind the Bioptimizers kApex was that we feel depleted energy and brain fog during the keto diet due to several metabolic deficiencies. These issues are the main reasons why many people are not getting the results they needed on the keto diet. 
The use of Bioptimizers kApex basically upgrades the process which our body uses to digest food. This way, both the body and its cells function on a higher level. The kApex acid in the supplement works in three ways:
– Breaking down the fat we east into small, easily digested fatty acids. These won't be too hard on the digestive system and will give us the energy we need as well.
– Assisting in transporting these fatty acids to the lover, mitochondria, and wherever else they need to go. This helps to break up the fat quickly and digest it before it gets stored in the body. 
– Enhances digestion and the metabolic energy function. This will help us to break through those pesky plateaus that delay our weight loss goals. 
Other Benefits of Bioptimizers kApex
There are several benefits of Bioptimizers kApex which we should consider before moving ahead with our purchase. Of course, it's imperative that we run these supplement by a trusted physician first, so that they don't interfere with any other condition or medicine. When this is done, we should consider the following benefits and consider whether Bioptimizers kApex is worth the investment:
– The regular intake of Bioptimizers kApex helps us to avoid bloating and excessive weight gain. On the keto diet, these unwanted conditions are usually due to an overconsumption of protein. With the protease blend in Bioptimizers kApex, the protein we consume will be broken down into easily absorbed amino acids. 
– We don't have to worry about anything we consume being wasted. Just about every nutrient is utilized and absorbed y the body to provide us with more energy throughout the day. 
– With proper breakage of protein, we can do away with spiking insulin, unwanted weight gain, and advanced aging symptoms.
– Bioptimizers kApex also replenished some very important elements that we may be lacking in our digestive system. This includes hydrochloric acid, which is essential for healthy and proper digestion.
– There's also dandelion root inside this supplement, which helps in stimulating our bile production. This is necessary for easily digesting the high-fat meals we need to have in keto. 
– The results of the Bioptimizers kApex are focused on giving us a lot of energy and drive for at least the next six to ten hours. This makes these capsules much more effective and easy to consume than a cup of bulletproof coffee. 
– Finally, the Bioptimizers kApex capsules include a patented ingredient. This is known as InnoSlim, and is specially formulated for enhancing the supplements ability to burn off fatty acids in the mitochondria. 
Dosage of Bioptimizers kApex
The dosage of Bioptimizers kApex will depend on what level we are at the ketosis stage and what our doctor says. However, we would probably have to take three to six capsules in the morning. Alternatively, our ideal dosage might be one or two capsules with meals. 
 Conclusion – Is Bioptimizers kApex Worth Trying?
In a nutshell, it might be said that taking the Bioptimizers kApex is like upgrading our body's engine to a much more enhanced level. If we find ourselves struggling with keto and its effects on the body, we might want to work on energizing ourselves through the use of Bioptimizers kApex. 
However, it must be noted that this product has a very high simulation. It might be best to get in touch with the company and see what dosage should be taken at what time. If all the benefits sound good enough, this is the time to visit the official website before Bioptimizers kApex sells out!