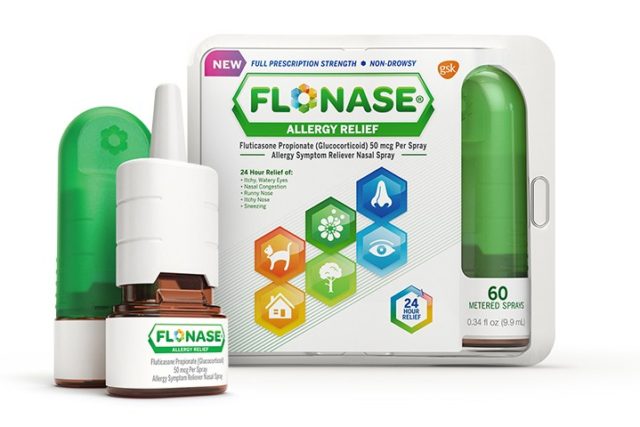 FLONASE® is an over the counter allergy medicine that has a series of three main products in the line primarily manufactured to provide a lasting alleviation from allergies by working on the root cause, unblocking the nose and other symptoms, providing comfort and relief to the users. The main factor that differs Flonase from other over the counter allergy medications is that Flonase efficiently deals with a range of inflammatory substances, for instance, histamine, prostaglandins, cytokines, tryptases, chemokines and leukotrienes, making it stand out among the rest with a strong competitive edge.
FLONASE® – How Does It Work?
An allergic reaction begins in the nose, because of the fact that as we breathe, we naturally take in several forms of allergens like dust, pollen, pet dander, and mold, that go into the lungs through the nose where an allergy actually triggers. The inflammatory substances produced in return then cause allergy cascade leading to some nasal symptoms like nasal congestion,
runny nose and itchy, watery eyes. Flonase Allergy Relief aims to work at the source to block these 6 substances as mentioned above, relieving and easing the users of the constant nasal discomfort allowing them to better focus on their routine tasks. Flonase Allergy Relief consists of an active and potent ingredient called fluticasone propionate that is by its properties fall in to the category of a glucocorticoid that are defined as substances our body naturally produces in an attempt to battle inflammation. Since FLONASE is a nasal spray that directly goes into the nose, there is a little or no chance of it ending up in the bloodstream or other parts of the body.
ABOUT FLONASE® ALLERGY RELIEF
The first product in the line is FLONASE® Allergy Relief that is basically a nasal spray primarily designed to alleviate nose- and eye-related allergy symptoms providing 24-hour relief from nasal congestion like runny nose, sneezing, itchy nose, itchy, and watery eyes. It contains fluticasone propionate that has been regarded as the no. 1 prescribed allergy ingredient for many years. However, some people are strictly forbidden to use FLONASE® until they have spoken to their healthcare professional in detail first, like pregnant or breast feeding women, children aged less than 4 years, people with a nose injury, having an allergy to any of the listed ingredients, asthma patients, and others.
FLONASE® SENSIMIST™ ALLERGY RELIEF
The second variant in the line is FLONASE® SENSIMIST™ that is specially designed to relieve an extensive range of nasal allergy symptoms caused by pollen, mold, dust, and pet dander. The product is carefully packaged in an ergonomically designed bottle paired with a shortest nozzle of any allergy spray with no-drip, is scent-free, alcohol-free and is easily available without a prescription. It is strongly advised that children aged 2 to 11 should use FLONASE® SENSIMIST™ at a lower dose around 1 spray per nostril each day, instead of 2, and that too for a very brief period of time as compared to adults. The users need not to worry about the side effects or any adverse reactions as they are very rare with FLONASE® SENSIMIST™ because it is applied locally at the source with no interaction whatsoever with other parts of the body.
But, since all bodies react differently to a particular product, FLONASE® SENSIMIST™ can cause certain side effects in some people like headaches, sneezing, dry or irritated nose or throat, an allergic reaction to the product in the form of sudden swelling of the face or tongue, a rash, wheezing, nose injury like nose-bleeding, cloudy or reduced vision and a decreased growth rate in some children. If you experience any of these reactions, see your healthcare physician at your earliest and read the drug facts at the back of the product for more details.
FLONASE® SENSIMIST™ and FLONASE® Allergy Relief – What is the Difference?
Both FLONASE® SENSIMIST™ and FLONASE® Allergy Relief serve as a full prescription strength, and highly potent allergy medicines providing 24-hour relief from allergy symptoms. However, the main difference between them is that FLONASE® SENSIMIST™ has a patented MistPro™ Technology that provides the users with a fine gentle mist. While, FLONASE® Allergy Relief has been used and prescribed for millions of users, and enjoys a unique place in their hearts for over 20 plus years now.
CHILDREN'S FLONASE®
The last variant in the line is Children's FLONASE® especially formulated for children for their allergy relief. It works at the root cause of the allergy symptoms and provides a 24-hour alleviation from allergens like pollen, mold, dust, and pet dander.  It is advised to shake the bottle gently and then check if the mist is coming out smoothly as sometimes the nozzle is clogged and needs to be cleaned. Ask your child to blow their nose so as to clear their nostrils. Close one nostril with your finger and place the tip of the nozzle on the other nostril and gently press it, then have your child breathe out of their mouth and repeat the same procedure on the other nostril as well.
About Indoor and Outdoor Allergens
All of the three FLONASE products enable the body to fight against a wide array of symptoms sourcing from indoor and outdoor allergens including pet dander, dust mites, mold, weed pollen, grass pollen, tree pollen, and mold spores.
FLONASE®  – Recommended Usage
The manufacturers of Flonase suggest the users to use the suitable product from the line once a day, every day, during the allergy season. All of the three FLONASE products not only help in alleviating and relieving from sneezing, runny and itchy nose, itchy, watery eyes, but also from bothersome nasal congestion. Many people have reported relief within 12 hours of starting their respective FLONASE product. But, individual's results may vary, and so the users should continue using it every day during the allergy season as it may take three to four days before the respective product delivers full effectiveness, relieving one allergy symptom every day.
FLONASE® – Where to Buy?
Interested individuals can find a store near them by entering their ZIP or using their location to find the nearest store that sells FLONASE Allergy Relief, or they can buy it from the online retailers like, Walmart, Target, Rite Aid, Amazon, Sam's Club, Costco, CVS, Kroger, and Walgreens.
FLONASE® – Customer Support
In case of any questions, comments, or queries, users can contact the customer support representatives of Flonase at, Consumer.Communications@gsk.com. In case of any feedback, or reporting of any adverse reaction that a user has experienced, give a ring at toll-free 1-844-356-6273 Monday through Friday, 9 a.m. to 4:30p.m. Eastern Time and a team member will address your query with his full and undivided attention.