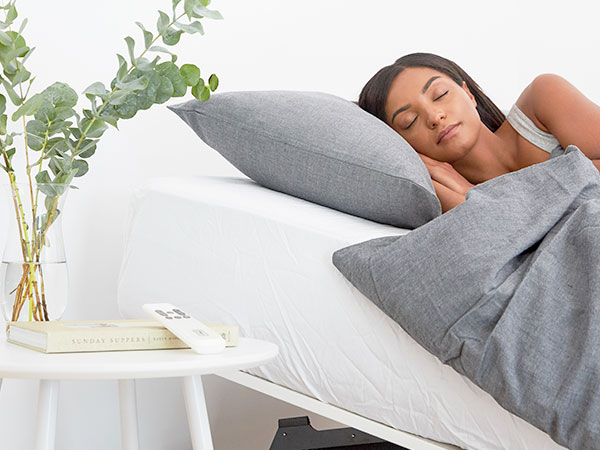 Getting a good night's sleep is essential to our mental and physical health. Unfortunately, most of us haven't had the opportunity to sleep well for a long time. We're too busy with our work schedules, juggling family and friends, or trying to make an impression on social media. The advent of smart devices and blue light screens has also made it very difficult to fall asleep and have a restful night.
While our days might be hectic, the nighttime should provide rest in every way. Many of us may still find it hard to fall asleep even after they've banned devices from their bedrooms. One of the main reasons for this could be an uncomfortable mattress.
A mattress is highly important to achieving a restful sleep. It shouldn't let us get hot while sleeping, and should have just the right amount of bounce and sinkage to make us feel comfortable. It can be hard to find the perfect mattress, especially with different sleeping preferences. Luckily, the Yaasa Mattress could serve to satisfy all kinds of sleepers and put an end to such problems.
About the Yaasa Mattress
The Yaasa Mattress is an offering by the company Yaasa, which is known for providing luxury mattresses. Their prices are reasonable, and the company also offers a base that's adjustable. This is a revolutionary step when it comes to mattresses. The Yaasa Mattress also comes with several other innovations such as the Celliant blanket.
The Yaasa Mattress comes inside a box and can be delivered to the end customer in a few days. There are four firmness levels to choose from, so we can make the selection according to our sleeping preferences. For instance, a side sleeper would find a soft mattress preferable, while a back sleeper would need a firmer option to ensure proper posture and joint support.
Special Offers
When it comes to discounts and lowered prices, there are several options you can find for the Yaasa mattress. There are several online coupons available all over the internet; we'd have to conduct a current search in order to see what's available. What's more, the official website is currently offering the mattress absolutely free as part of the package! All we have to do is pay the portion of the adjustable bed base, and the mattress is free of charge.
Like all the best mattress brands, the Yaasa Mattress also comes with a 100-night trial. This is essential since everyone should try out a mattress and make sure it's comfortable for them before they commit to it. A mattress can last for at least a decade, so it's imperative that it be the right one. Otherwise, we could be facing discomfort and lost sleep for a long time. Hence, the option to return the Yaasa Mattress within a hundred days is very heartening.
Construction of Yaasa Mattresses
The Yaasa Mattress is made up of several materials, which vary according to the firmness level a customer chooses. No matter which one we end up choosing, though, each mattress would come with a Tencel cover. This provides more breathability and better airflow than a traditional cotton cover, thus ensuring that we'd sleep cool.
Having a lowered body temperature is essential for restful sleep, so we can count on the Yaasa Mattress to give us this. Additionally, the Tencel cover is silky to the touch, which makes for a smooth experience with less snagging and friction.
The soft Yaasa Mattress is comprised of 2 inches of Cooling Infinity Foam, 1 inch of Hybrid Transition Foam, 8 inches of the Quantum Edge Coil System, and 1 inch of High-Density Support Foam. The firm variety has one inch of Cooling Infinity Foam, 2 inches of Responsive Natural Latex, 8 inches of the Quantum Edge Coil System, and 1 inch of High-Density Support Foam.
Having an option between soft and firm levels is a great feature of the Yaasa Mattress. This allows customers to choose the kind of sleeping experience they have. With the trial and return option in place, we'd be at no risk if we get the wrong firmness. All we have to do is exchange it and get the type we need.
Positive Aspects of the Yaasa Mattress Experience
There have been several online reviews about the Yaasa Mattress, and the overall content is quite positive. Some of the main points about this mattress have been listed and discussed below:
   While it's delivered in a compressed boxed form, it's ready for use as soon as we take it out. There would be some off-gassing due to the synthetic materials used, but customers have reported that this is not drastic.

   Each layer of the Yaasa Mattress is reported to transition well and provide an excellent sleeping experience for every kind of sleeper. There are springs included inside, but the Quantum Edge Coil System makes sure that they aren't felt when one lies down on the mattress.

   Another plus point about the Yaasa Mattress is that it has leather handles stitched onto the sides. The sinkage in the soft option would be quite decent, as is to be expected. In the firmer options, the sinkage would be much less.

   With the coil system in place, we can be sure of the mattress responding immediately after we get up from it. This should assure us that there would be minimal issues with sagging or dents, which could diminish the comfort of a mattress.

   The coils also provide a decent level of bounce to the end product. The same system would also limit motion transfer, so a restless or active sleeping partner wouldn't disturb us in the middle of the night.

   With the cutting-edge foam technology, the Yaasa Mattress stays breathable and hence prevents any heat retention.
Conclusion – Is Yaasa Worth Trying?
There's a lot of information and feedback about the Yaasa Mattress online. After looking at all the reviews and the official website, it seems obvious that this is a hybrid mattress that caters to every sleeping need. Even with the soft option and sinkage factor, it wouldn't let us sleep hot.
All in all, the Yaasa Mattress is proof of some exceptional engineering and talented designing. If we value a good night's sleep and are on the market for a new mattress, it might be time to get to the official website and place an order for this mattress right away!