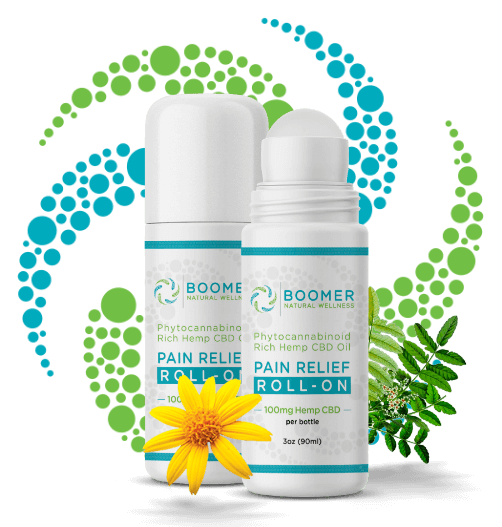 In order to be completely healthy, we need to balance up several aspects of our lives. This means that our physical, emotional, mental, and even spiritual needs have to be fulfilled in a proper manner. Balancing all these aspects is a challenging goal, but it's definitely not impossible.
Science has made a lot of strides in the past few decades, with several alternatives to traditional medicine coming into the market. While not all of these are safe or effective, we can usually determine the usefulness of these offerings by looking at the company behind them and the amount of research that's gone into their formulation.
One of these products is the Boomer Natural Wellness CBD Roll On. It's a somewhat different item than other CBD products due to its packaging and method of use.
Let's discuss this a bit further in order to see whether it's worth a trial or not.
About the Boomer Natural Wellness CBD Roll On
The Boomer Natural Wellness CBD Roll On is a supplement containing CBD, but it comes in the form of a skincare product rather than a tincture, capsule, or cream. The main components here contain cooling elements such as peppermint and menthol, both of which have the ability to cool down our inflamed cells and hence reduce pain.
The Company Behind the Boomer Natural Wellness CBD Roll On
The company and name behind this roll-on supplement is called Boomer Natural Wellness. This is a company that works based n the results of its research and testing. It's most well-known for supplying cosmetics and supplements as well as manufacturing them.
Boomer Natural Wellness does its best to supply products that are of high quality as well as safe for human consumption. According to several reviews from their users, their offerings are also quite efficient in the case of both humans and animals.
Most of the products from this company are of the CBD kind, which means that they have infusions of hemp oil extracts. This assures us that the company does know what it's doing. Since they also keep control of their products from the manufacturing process to the sales point, we can be certain of their quality as well.
Boomer even farms their own quality organic hemp, which limits outsourcing and possible adulteration. With properly monitored farming regulations, we can be quite certain about the quality of the ingredients from start to finish.
The Powerful Ingredients in the Boomer Natural Wellness Roll On
There are around four powerhouse ingredients that make this particular roll-on an effective pain reliever for most people. We'll briefly discuss these here:
– Peppermint – Menthol makes up a large percentage of peppermint oil, and is effective in providing a cooling sensation.
– Arnica Montana – This is a flower that's been known to help with muscle pain and stiffness due to injury, swelling, or overexertion.
– Indian Frankincense – This is a common ingredient that's known for its benefits with regard to osteoarthritis, joint pain, and other similar painful conditions.
Why We Should Try the Boomer Natural Wellness CBD Roll On
The Boomer Natural Wellness CBD Roll On might be a different way to get our daily dose of CBD for a healthy life. However, there are several other CBD products, so why should we especially try out this one. The facts below might help us make a final decision.
– The company behind this roll-on makes sure that their products are in their control from start to finish. After manufacturing, they also send the products and material for testing in a third-party lab. This is why we can ensure that the highest and strictest standards are maintained with this item.
– The popularity of hemp oil or CBD products is growing every single day. Many people find a lot of benefit from the consumption and usage of such offerings, especially if they seek a natural alternative or find the side effects of allopathic medicine too much to handle.
– The official website of the Boomer Company is easy to access, highly informative, and saves a lot of hassle when someone wants to order the Boomer Natural Wellness CBD Roll On.
– This roll on contains natural ingredients, which are beneficial for our health in most cases. Short of being allergic to any individual component, we can rest easy about the ingredients not causing harm to our bodies.
– The time it takes for most people to start noticing the positive effects of the Boomer Natural Wellness CBD Roll On is relatively short. While the exact time might vary from person to person, most of the reviews offer hope for a rapid result.
– The CBD products by the boomer company are free of THC compounds. The latter is responsible for hallucinations, a 'high' feeling, and other negative experiences associated with cannabis. Without THC, however, we only get the medical benefits of CBD and not much else.
– With the roll-on offering, one may look forward to a convenient and regular intake of their CBD dosage. This will give us the satisfaction of not ingesting anything orally, but still getting the pain relief from CBD. If anyone has some issues with consuming CBD even without the THC compounds, they can still opt for the pain relief results that come with this roll on.
– We don't need a prescription with this product, so it's easy and legal to get our hands on it.
Conclusion – Final Thoughts on Boomer Natural Wellness CBD Roll
Everyone deserves to have a natural form of pain relief, even if they don't want to take oral supplements. The Boomer Natural Wellness CBD Roll On is hence a convenient and unique product for those who want to use a CBD product for their health issues.
Fortunately, the company behind this offering is one that knows how to determine and introduce effective, safe formulas with CBD benefits. With several referrals from satisfied clients, we may look forward to a positive experience with the Boomer Natural Wellness CBD Roll On. Of course, we wouldn't know for sure unless we try it out. Let's head to the official website and order a roll on for ourselves to see how it works!