Skincare bears a paramount importance in our lives if we aspire to maintain a beautiful and healthy skin regardless of our age. Our skin needs nutrition and demands our undivided attention to help us stay youthful. A good skincare routine should be carefully formulated considering all the necessary features about both the skin and the products and so one must conduct a thorough research about the brands they are opting to and making sure whether they protect the skin from damaging free radicals and harsh environmental factors. In addition, it is also very important to consume a healthy and well-balanced diet so the skin gets all the beneficial nutrients that will allow it to remain firm, radiant, and healthy.
In this review, we are going to analyze Meaningful Beauty® skincare products and how they can change the skincare game for the absolute good for its users by moisturizing, hydrating, and rejuvenating it making them look years younger than their actual age.
Common Skin Problems
So, what are some of the most common skin problems are? Well, there are several skin issues that arise as we age including wrinkles, fine lines, crepe skin, skin tags, and a dull complexion. Aging is inevitable and we cannot avoid it but we can work to take care of our skin by using naturally-formulated and safe products along with fixing our diets and bidding goodbye to unnecessary stress and tension, because when you feel good, you look good, it's just as simple as that. Our skin tends to get wrinkly, crepe-like, and gets saggy when we are constantly exposed to external factors like free radicals, environmental pollutants, sun rays, and do not wear any protection SPF or even if we do, it's just doesn't suit our skin. In return, we are left with a dry, dull, and inelastic skin texture that bug us and impair our overall appearance. Therefore, it is important to use quality products that are naturally made and bring guaranteed results because a healthy and beautiful skin is important for overall health as it protects us from allergens, germs, and pollutants.
About Meaningful Beauty®
Meaningful Beauty® was formed over 10 years ago, when Cindy Crawford and a French anti-aging specialist Dr. Jean-Louis Sebagh collaborated with a shared aim to revolutionize the skincare industry by formulating an effective, high-quality, and amazing skincare line ensuring guaranteed results in as little as four weeks, if used as recommended.
Meaningful Beauty® youth-enhancing formula already has a unique place in the consideration set of its consumers as it has helped thousands of women in achieving a younger looking skin, a reduction in the signs of aging, and a natural glow that have had them raving about it and its remarkable properties. Cindy Crawford and Dr. Sebagh have paired classic formulations with a cutting-edge, advanced technology, making Meaningful Beauty® as an exclusive age maintenance skincare system that evens out the skin, diminish the appearance of wrinkles, restores skin's moisture, brightens the complexion, and rejuvenates the overall appearance allowing the users to rock a no-makeup "makeup" look with no makeup on!
Meaningful Beauty® – Ingredients
Meaningful Beauty® consists of an antioxidant complex that is rich in superoxide dismutase (SOD) and skin boosting and restoring ingredients such as coenzyme Q10, lipoic acid, and minerals that collectively provide a youthful radiance to the skin. This powerful and potent antioxidant, Superoxide Dismutase (SOD) is found in a rare melon (cantaloupe charentais) discovered by scientists in a remote region located in the south of France. It is also known as a "youth molecule" for its stellar age-defying, skin resilience, and skin rejuvenating properties, and is one of the most powerful antioxidants known to science. Meaningful Beauty comprises of this melon extract in a very high concentration and is the first brand to use it giving it a strong competitive advantage.
Meaningful Beauty® Anti-Aging Skincare – Benefits
The entire anti-aging skincare line by Meaningful Beauty® keeps the users' skin firm, younger, and vibrant without requiring them to spend a fortune on expensive injections, Botox, surgeries, and pills. The users can easily delay the inevitable signs of aging by nourishing their skin with powerful antioxidants like SOD, restoring its natural glow and appearance. Other benefits of Meaningful Beauty® Anti-Aging Skincare are listed below,
Diminishes the appearance of fine lines and wrinkles
Reduces dullness, brightening up the complexion
Restores skin youthful appearance
Serves as a barrier for the skin against environmental factors and free radical damage.
Let's now take a look at each of these skincare products offered by Meaningful Beauty®.
Meaningful Beauty® – Skin Softening Cleanser
It is a soft, gentle, and mild facial cleanser that wipes off all the
dirt from the skin without stripping skin of natural oils. Since it's a non-irritating formula, its creamy, non-foaming texture takes off all the makeup and impurities, deep cleanses and conditions the skin giving it a nice, glowing, and radiant feel.
Antioxidant Day Crème – Broad Spectrum SPF 20
It is an anti-wrinkle crème that is made up of Meaningful Beauty®'s revolutionary antioxidant complex combined with a botanical blend that gives the skin a beneficial dose of anti-aging ingredients to smooth, hydrate, and brighten up the overall complexion. It also protects the skin from sun damage as it has SPF 20.
Crème de Sérum

Crème de Sérum contains three powerful and highly potent anti-aging ingredients named as, super antioxidant melon complex, anti-aging peptides and hyaluronic acid that allow it to effectively battle the visible signs of aging. This product is special and unique as it contains combined properties of a serum and crème, providing the users with hydration, moisture, and natural radiance. Cindy suggests that the users should follow this up with Anti-Aging Night Crème to further nourish and boost their skin.
Lifting Eye Crème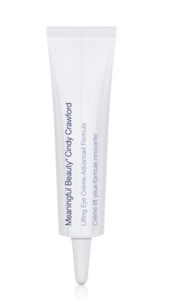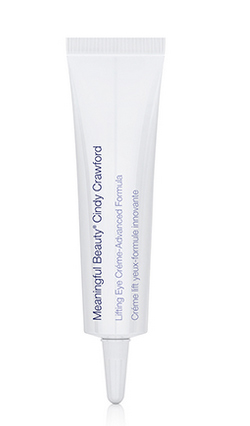 Lifting Eye Crème is an advanced and hydrating eye formula that aims to reduce visible signs of aging around the eyes like crow's feet, fine lines, and wrinkles. It is fully equipped with optical diffusers, that also diminishes dark circles, eye bags, and puffiness making the eyes pop, fresh, lifted and younger.
Other products include Dark Spot Correcting Treatment, Wrinkle Smoothing Capsules, Skin Polishing Brush, Skin Brightening Décolleté and Neck Treatment, and a Glowing Serum.
Recommended Routine by Cindy
Cindy is undoubtedly an ageless beauty. Her daily skincare routine is divided into two essential sessions i.e. during the morning and evening.
Morning Ritual
STEP 1 – She starts off with cleansing her face with the Skin Cleanser by massaging a small amount on a clean dry/wet face in circular motions. Rinse it off then with a water or wet washcloth that serves as an exfoliator and further aids in thorough cleansing.
STEP 2 – Cindy then applies Meaningful Beauty's Ultralifting +Filling Treatment on a clean face and neck in circular motion following up with a small amount of Antioxidant Day Crème on to the entire face before heading out into the sun.
STEP 3 – Thirdly, she dabs a small amount of Lifting Eye Crème around the eyes by using her ring finger to avoid being harsh on the skin.
Evening Ritual
STEP 1 – After a long day of work, the skin deserves to be pampered and so Cindy ends her day by cleansing with the Skin Softening Cleanser as per the directions mentioned in the morning routine.
STEP 2 – She then uses one/two pumps of her Crème De Sérum that is perfect before night as it restores the skin natural moisture and radiance.
STEP 3 – She then uses the Lifting Eye Crème around her eye area gently.
Meaningful Beauty® – Pricing
Currently Meaningful Beauty® is offering its ULTRA kit that contains the Skin Softening Cleanser, Crème de Sérum, Antioxidant Day Crème Broad Spectrum SPF 20, Lifting Eye Crème – Advanced Formula, and Ultra Lifting and Filling Treatment and is priced at $39.95 only. This offer speaks volumes about the unmatched value provided to the users without costing them a fortune. The users can also benefit from the limited time offer and so they won't have to pay the shipping charges on these Meaningful Beauty® ULTRA Kits.
Money Back Guarantee
Meaningful Beauty® skincare line is fully backed up by a rock-solid 60-day money back guarantee (less shipping and handling) if the users are not satisfied with the results, with no questions asked. However, if they wish to provide their reviews, and want to share their experience, they can reach out to the customer care service at, (800) 927-0047.
Final Verdict –  Should You Buy Meaningful Beauty® ULTRA Kit?
Yes. One should definitely go for Meaningful Beauty® Ultra kit as it not only offers a great value at an unbelievably low price but also delivers guaranteed results to the users. Meaningful Beauty® nourishes, hydrates, protects, and moisturizes the skin allowing the users to flaunt a youthful appearance and defy aging signs that sometimes appear too early and make us look like years older than we actually are. Cindy Crawford is of the view that when users drink a lot of water, avoid smoking and drinking, and sun exposure along with using Meaningful Beauty® skincare products, they are able to achieve a firm, lifted, and radiant skin, they can flaunt.