Warning
: mysqli_num_fields() expects parameter 1 to be mysqli_result, boolean given in
/home/thefpvjh/fitnesscamp.co/wp-includes/wp-db.php
on line
3351
One and Done Workout is a unique at home workout program that has been created by Meredith Shirk. She is a renowned fitness trainer, who has launched a series of health and fitness programs over the years.
In the quest to get fit, stay fit, build muscle, and get healthier, many of us turn to the gym. This is a commendable activity, which makes sure we get in some exercise in an otherwise sedentary lifestyle. However, there are quite a few downsides to visiting a gym, even if we can manage to discipline yourself enough for regular visits.
While the gym might be a great concept in itself, most organizations like these are run more like businesses than anything else. The amount of dedication and time a person puts in is simply not feasible in the long run. This is probably why so many people end up cancelling their gym memberships after they've stopped going there for a long period of time.
Another reason for shunning those hours of gym workout is that the results simply may not show after some time. This is because most of us aren't aware of what it takes to actually work out for a better, healthier body. Taking time out from an already full schedule, of course, is another factor altogether.
Fortunately, there's something out there that the busiest person would find suitable for their routine. This is called the One and Done Workout, which is worth considering for its innovation and success record.
About the One and Done Workout
The One and Done Workout is a workout program that lasts all of 7 minutes. It contains around a dozen exercises, with just 10 seconds for a rest period between each one. The goal of this program is to enhance our metabolism, thus maximizing calories burn. When we do this right, we may see the pounds melting off even without the gym. It's hence perfect for those who don't want to visit the gym due to time constraints, confidence issues, or any other reason.
All the workouts require is a solid floor and something to hold on to, such as a chair. It's thus easy to do from home, alone, or with a group of friends.
The Name Behind the One and Done Workout
The person who founded the One and Done Workout program is Meredith Shirk. She's the founder of the company Svelte Training and has been employed by many fitness brands to date. Her focus now is on providing people with easy workouts and accessibility to healthy foods. While she's still in the process of developing the latter, the One and Done Workouts are very much available for the masses. There are also several other workout programs released by the same individual and company.
As a fitness trainer, Meredith Shirk has trained many people and helped to get the physique they dreamed about. She's not just interested in physical transformations, though, but also wants to change her clients' mindsets and improve the quality of their lives.
Free Trials
If we're skeptical about a home workout, especially one that's so short, there are some free trials online for everyone to try out. The video are detailed, with the steps outlined clearly. Viewing these would also help us understand that the founder of the program is legit and that she knows what she's talking about.
Meredith Shirk has both a YouTube channel and a personal website. This way, anyone interesting in losing weight without spending too much time on it could view the work before the actual purchase. What's more, there are also certain studies on these platforms that show how the programs are likely to be effective and sustainable.
The Working of the One and Done Workout
We may wonder how the One and Done Workout actually pan out if they're really just 7 minutes per day. The crux of the matter might be in the intensity of these workouts rather than the duration. The 10-second resting periods are also there for a reason. They give us time to breathe, but not enough to take the stress off our muscles.
This way, our muscles would be better able to adapt to the work you put on them in these 7 minutes. The result, hopefully, would be to unlock metabolism boosters that would digest and burn the food we eat in the remainder of the day.
Advantages of the One and Done Workout 
Apart from the usual advantage of weight loss, we may look forward to several other benefits of the One and Done Workout. Understanding them would help us make a final decision with more surety:
First, we should understand that the One and Done Workouts make use of the body weight itself. This means we don't need to invest in any expensive and potentially dangerous equipment. Since dumbbells scattered on the floor could be a serious tripping hazard, parents would surely appreciate this aspect of the program.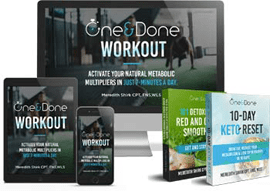 Next, there's also an S.I.T technique included in the One and Done Workout. This is short for Sprint Interval Training, hence teaching us how to build up our endurance and maximize the number of burnt calories. This phenomenon would then hopefully work even when the workout is done for the day.
Finally, there are several testimonials online from actual users, which state that the One and Done Workout does actually work for them. Even completely gone cases like morbidly obese individuals have been able to lose a decent amount of weight in around two weeks. The testimonials are also in the form of video reviews, so we can get our information any way we like.
Important Concerns
On the other hand, certain blogs and critics aren't able to see the efficacy of this program. They say that it might not be the best idea for muscle growth or even weight loss in general. Their reasoning is that 7 minutes are simply too little for achieving noticeable results.
While the concerns of certain critics are logical, there's no doubt that some high-intensity workouts can probably make a difference for an overweight, inactive individual. Even a little activity is better than none at all. If the workouts don't give results in the long run, they would probably do enough to motivate us into taking care of our weight and health in the future.
Bonus Materials
The users will be able to get free access to two of Meredith's best-selling guides including,
Bonus #1 – 10-Day 'Done-For-You' Keto Restart Meal Plan
Bonus #2 – 101 Detoxifying Red & Green Smoothie Recipes
In addition, there is also a special limited time offer through which the users will be able to get one of the popular fat loss guides, The 14-day Fat Loss Accelerator Guide for just $12.00. It is normally priced at $24.95 and is currently available at a steal price.
Customer Support
The users will experience a 24/7 customer support and assistance in case they have any queries, comments, or want to voice their feedback.
Conclusion – Is One and Done Workout System Worth It?
While there may be qualms and doubts about the One and Done Workouts, there's little financial risk involved. The program itself isn't nearly as expensive as some similar one out there, and there's a 60-day money-back guarantee if we're not completely satisfied. Since those of us with excess fat, tired bodies, and a full schedule have nothing to lose here (except weight), we should definitely give this a go. It's time to visit the official website and place an order for the program right away!